Our Colchester BID launch late night economy support programme
Our Colchester BID launch late night economy support programme
 Our Colchester Business Improvement District (BID) are leading on a training initiative to help improve night-time economy safety capabilities in leisure businesses in the city centre.
Our Colchester BID worked with partners including CBC and the Essex Police Fire and Crime Commissioner to put in funding bid to the Home Office Safer Streets 4 fund, which was successful gaining £200,000 funding for the city centre. Part of this bid was to develop an enhanced Ask for Angela scheme, where businesses in the town centre could get guidance and support to develop a response that is tailored to their venues, to support anyone that becomes vulnerable in their venue.
Our Colchester BID commissioned leisure industry specialists Six Till Six to write and develop workbooks that guide town centre businesses through the steps they need to take to decide what to do if someone becomes vulnerable, and then in turn how to communicate and train their team accordingly so that everyone in their venue feels confident and equipped to support vulnerable individuals. Once trained, individuals will be given a lapel pin denoting that they are trained to respond to any Ask for Angela requests.
The initiative has been developed in partnership with Colchester Pubwatch, Essex Police, Colchester Borough Council and other local partners.
Ask for Angela training is part of the wider programme which also includes broader vulnerability training to create 150 capable guardians across businesses, transport and other stakeholders active in the night-time economy, a Best Bar None scheme for the town centre which supports licensed premises to ensure they have robust operating policies to support a healthy, vibrant night out, and a new vehicle for Open Road SOS Bus.
The initiative is being rolled out in premises across the city centre now, which will provide a reassuring message to the returning students at Uni of Essex. Ask for Angela materials will be on display on the Essex Police and CBC stands at the Fresher's Fayre on 7th October.
The city centre scheme compliments the initiative that is already embedded within the Student Union at the Uni of Essex.
BID Manager Sam Good said "We're proud to be working with key stakeholders and industry experts to support Colchester's' night-time economy businesses. The work produced from this partnership aims at supporting venues to help safeguard their visitors and ensure that all visitors to Colchester City centre have a safe and enjoyable time. In addition to the enhanced messaging around the Ask for Angela campaign and the support businesses receive implementing this, the BID is also working on providing further support services for the leisure industry. This includes a resource page on the Our Colchester website signposting people to recommended charities and organisations to assist people who may feel vulnerable.
This Ask for Angela campaign is in addition to the BIDs current support of night-time and leisure businesses in the city centre, including regularly attending and participating in Nights of Action, Pubwatch Committee, and focused marketing."
Roger Hirst, Police, Fire and Crime Commissioner for Essex said, "Safety is a key priority for everyone involved with leisure businesses and night-time economy, whether a patron, employee, or business owner. Safety is something that we all need to focus on, and this scheme is a great way for businesses and partners to work together to provide help when people feel unsafe and reduce the risk of people becoming the victims of crime.
"The scheme is part of a £500,000 investment to reduce crime and the fear of crime in Colchester by tackling inappropriate and criminal activity and fostering a strong network of partners committed to creating a safer environment."
Andy Starr Chair of Pubwatch says – "We would like to Thank Our Colchester – The BID - and All those involved in updating the Ask Angela Project for our City. Pubwatchs' mission for the City of Colchester is a safe, fun night out. Ask Angela is another solution that helps everyone achieve this goal. Have FUN, stay safe."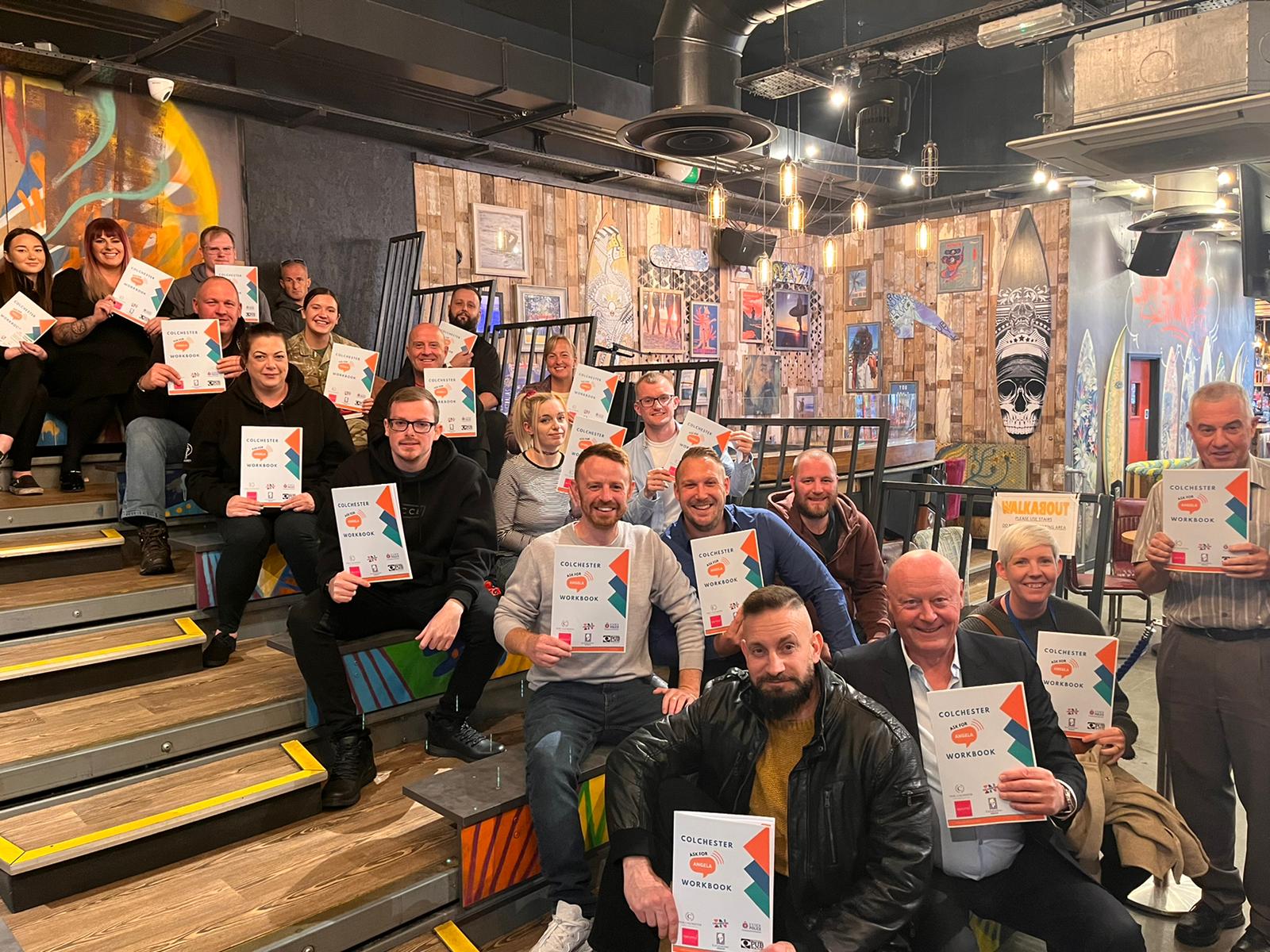 Pubwatch Members with Ask for Angela staff training material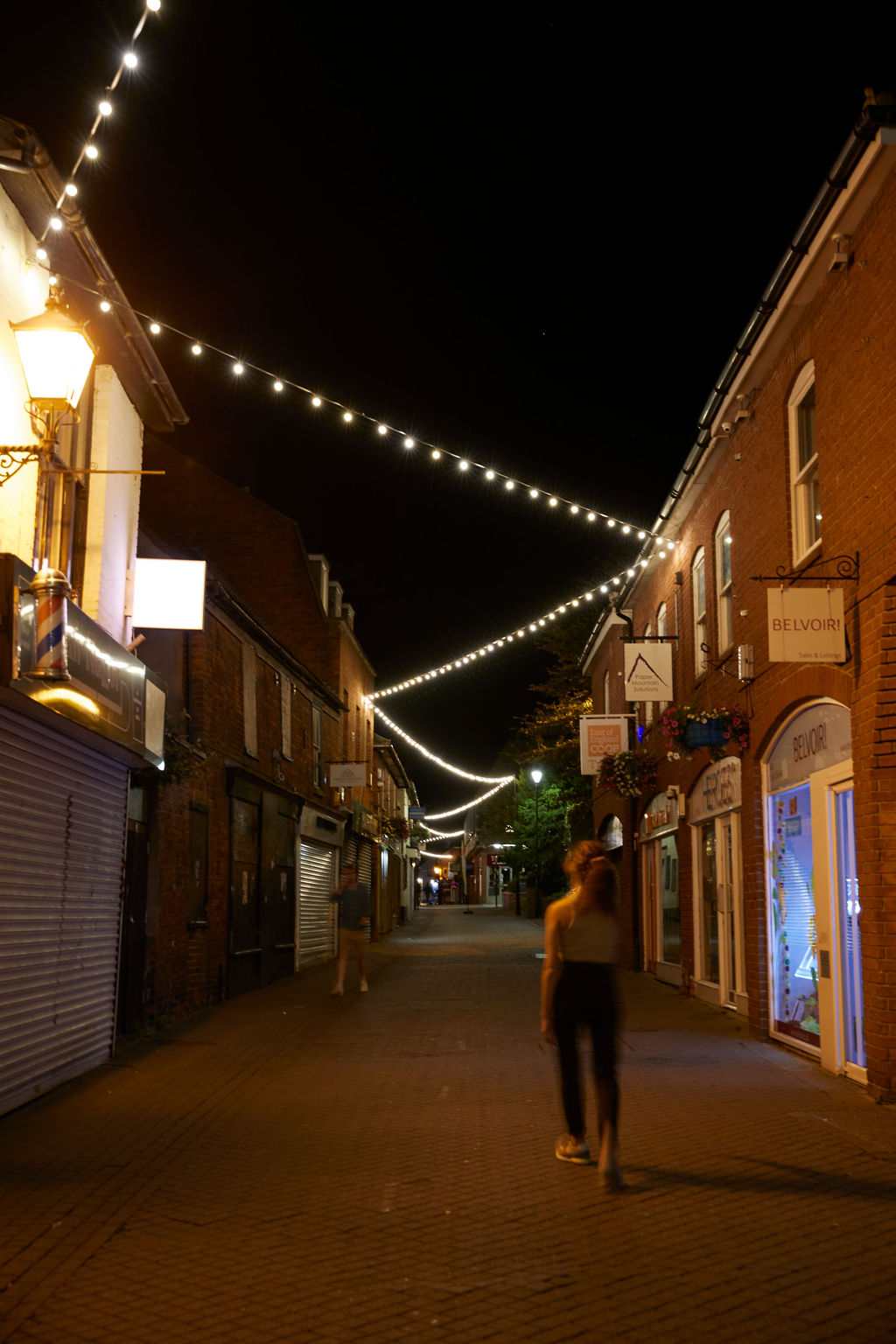 BID funded additional street lighting
Supporting Local Businesses
If you are a leisure business within Colchester City Centre and would like to receive additional Ask for Angela training packs please email hello@ourcolchester.co.uk