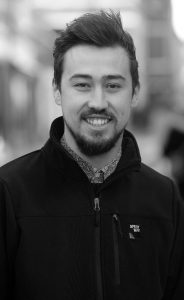 Sam Good
BID Manager
Sam overseas the BID team and specialises in the project planning and stakeholder relationship management.
Email:
sam@ourcolchester.co.uk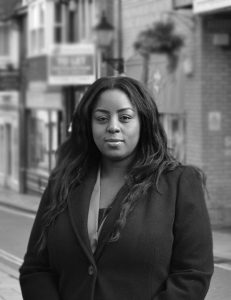 Sophia Beckford
Opperations Manager
Sophia oversees day to day operations of the BID including project management and coordination the Our Colchester Street Ambassadors.
Email:
projects@ourcolchester.co.uk
Jess Walker
Marketing Executive
Jess manages the BIDs communication channels and promotion for the BIDs activities.
Email:
marketing@ourcolchester.co.uk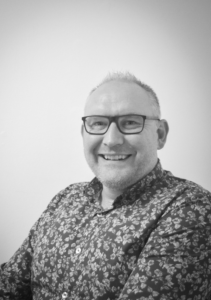 Vincent Geaves
Business Crime Liaison Officer
After a career in law enforcement Vincent has joined the BID team to support assist in resolving business crime issues and working alongside key stakeholders to deliver projects like Ask For Angela and Vulnerability training.
Email
businesscrime@ourcolchester.co.uk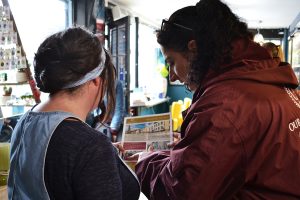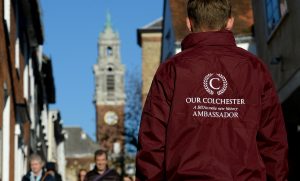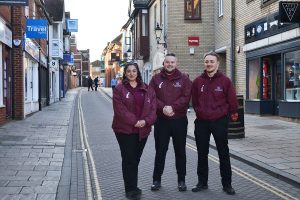 Board of Directors
Simon Blaxill (Chair) - Kent Blaxill
Born and educated in Colchester, Simon went to university in Bristol where he stayed on to work for DRG plc, a large paper and packaging company. From their market research department, he became a product manager for DRG Sellotape before returning to the family business Kent Blaxill in Colchester with a business degree from Cranfield. Thrown in at the deep end, he has seen the company grow from 7 branches to 18 with a specialism in decorating materials. Learning from many mistakes along the way, he believes strongly in people and customer service. He also believes strongly in Colchester and the opportunity for the town to work together to reinvent itself, not just as a retail but more importantly as a 'social experience' for the benefit of all Colchester people. Outside work, Simon has several hobbies, mostly outdoors, from cycling and birdwatching to growing vegetables on an allotment.
Michelle Reynolds (Vice-Chair) - Inprint & ColBAC
Michelle spent many years in the corporate world, gaining an expansive range of skills in customer service, customer retention, project, transformation and change management but took the opportunity to broaden her horizons some 17 years ago and became an independent retailer. Knowing and understanding the importance of alliances, quickly developing a network of like minded independent business owners. She enjoys the flexibilities and challenges, and admits there are many, of being an independent business. Although not a Colchestrian she has lived here for most of her life and is passionate about this historic town and its success. She joined the BID board wanting to make a difference and particularly to support the independents who are so important to the town success. Out of work she likes fitness, potters around the garden and her family is really important.
Andy Starr- Colchester Pub Watch
Chair of Colchester Pubwatch, Vice-Chair of Colchester Business Against Crime and Founder of Rollerworld, Andy is a leading voice in Colchester supporting the Cities Night Time Economy and is incredibly passionate about making Colchester great.
Chris Morgan- Metro Bank
Chris has over 14 years corporate, private and retail finance experience, having worked across some of the biggest banks in the UK and most recently at one of the leading challenger banks. He supports high net worth families, business owners and not for profit boards with a variety of corporate banking and finance facilities. Being a leader of a large team at Metro Bank, a board member of the BID and a NED for a locally based CIC, he appreciates how difficult running a business can be and how rewarding it is seeing it grow, employ and train people and make a difference to the lives of the local community. Having lived in Colchester all of his life he is very passionate about working with and supporting the local community and doing all he can to give back. Chris loves seeing how the town has grown, the challenges it has overcome and the future ever-changing landscape for business. Outside of work he is a proud father of 2 and enjoys football running, fishing and walking the dog.
Dan Mitchell - Oakheart Property
Dan is a Colchester based entrepreneur that heads up a number local and national businesses ranging from a full-service digital marketing agency, online retailers and most recently, a local estate agents. Combined with a background in managing high-profile government projects, plus over a decade in retail, gives him a unique skill set that allows me to deliver confidently on public sector projects, as well as helping local business leaders pivot their service offering and marketing towards success in the ever-changing market. Outside of work, Dan is passionate about health and well-being, playing rugby and football (terrible at both), and is also a down to earth family man who can often be found getting stuck in at local family-attractions at weekends. 
Dave Robertson- Culver Square Shopping Centre
Dave has been the Centre Manager at Culver Square for six years, prior to this he worked in London within property management. Having thoroughly enjoyed his time at Culver Square, it has given him the opportunity interact with some amazing people in the both the business environment and the community. Dave states "I strongly believe we are better working together for the benefit of business in our town centre, which is why I am a Director of the BID". Outside of work he volunteers with St Johns Ambulance as an Emergency Care Assistant. In what spare time he has left he likes to Kitesurf, although much more practice is needed before he believes he can claim to be competent.
Nancy Foster - Fenwick
Nancy has lived locally to Colchester for most of her life and feels very fortunate to now work in the heart of the town centre. Nancy feels that Colchester is a vibrant town steeped in history, art and culture and is excited to be joining the board as a director of Our Colchester to further support improvements for our businesses, residents, and visitors. Outside of work she loves to travel, potter around in her garden and spend time with her family.
Neil Peck - Westbury Advisors
Neil has 20 years corporate finance experience at top tier global financial institutions supporting larger corporates and SMEs with a variety of corporate banking facilities. Neil appreciates how difficult running a business can be and how rewarding it is seeing a it grow and employ people. Neil is delighted to become a director of Our Colchester and having lived in Colchester for 15 years and seeing how the town has grown, challenges it has overcome and the future ever-changing landscape for business. Outside of work, he enjoys cycling, tennis, hiking, DIY and walking the dog! 
Suki Dulai- Flying Trade Group
Suki Dulai is an award winning entrepreneur with businesses spanning the globe across International food, boutique hotels, leisure, online retail, building, construction and real estate. Suki, who lives in Essex, is passionate about his local town Colchester and has invested significantly in regeneration projects from preserving important Roman ruins at Claudius Gateway, to investing in St Nicholas House Hotel and the High Street's historic George Hotel. 
With three decades of successful business experience behind him, Suki is passionate about making Colchester town centre a destination town to support retail, leisure and night time economies.
Tim Field- Birkett Long
Tim is a Commercial Solicitor at Birkett Long heading up the Health and Social Care division.  Having originally trained as a barrister he got diverted into working in industry before re-joining the legal profession. Tim grew up in and around Colchester and takes an interest in local projects.  He sits on the board of Our Colchester BID which works to promote Colchester and delivers projects for the betterment of the town.  Tim is also a trustee of Open Road – an established Drug and Alcohol Recovery Support Charity and a trustee of Firstsite a visual arts organisation who deliver a diverse and socially inclusive programme. Outside of work and charitable commitments, Tim is a keen cyclist and runner, alongside his enjoyment of food and drink with family and friends,
Craig Newnes - McDonalds
Managing Director at CGM Restaurants, Craig employs over 700 employee across Colchester and Tendring alongside acting as a Colchester Ambassador alongside other leaders across Colchester City.
Colchester City Council observers:
Cllr David King - Leader of Colchester City Council
Mandy Jones - Assistant Director for Place and Client Services
Matthew Sterling - Strategic Economic Growth Manager
BID Board appoints three new Board Directors
Our Colchester BID are excited to announce the addition of three new directors to the BID Board. The board, currently made up of 13 members, delivers on a wealth of experience to bring key benefits to the BID and the improvement of the town centre. The combined collection of knowledge and experience range from retail, hospitality, creative and professional services industries, allowing the BID to plan projects, ideas and initiatives that will support all sectors across the town in the best way possible.
The BID Board is responsible for strategically planning the BID's long term goals and understand the direction projects will take year on year. Now in its third year of a five-year term, the BID will focus on supporting business growth and encouraging footfall into the town centre.
The new board members are; Dan Mitchell from Oakheart Property, Nancy Foster from Fenwick and Neil Peck from Westbury Advisory. The BID team are thrilled to welcome them onto the board, continuing to support the town centre during this crucial time.
Simon Blaxill, Chair of Our Colchester BID said "It is vital that as a BID Board we have a diverse selection of Directors that can guide the BID into a strategic way of thinking for the betterment of Colchester town centre and for our levy payers. We are thrilled to have Nancy, Neil and Dan joining us on our Board with their wealth of knowledge in their sectors alongside all having a real passion for our town centre and it's future.".
Over the next few months, the BID will continue to help businesses throughout COVID and provide substantial support during the next reopening. As COVID restrictions hopefully begin to relax, the BID will focus on projects that will safely bring footfall back into the town centre and share the shop local message.
BID Advisory Group
Dave Robertson (Chair) - BID Director & Culver Square Shopping Centre
Simon Taylor (Vice-Chair) - Greyfriars Books
Denise King - Emmaus
Glen Shuttleworth- Go East Anglia
Graham Fraser- Annabelles
Nancy Foster - Fenwick
Anthony Roberts - Colchester Arts Centre
Jacinda Love - J Love Marketing
Paula McKelly - Three Wise Monkeys, V Bar & twisters
Sally Shaw - Firstsite
Nick Jackson- Atik Night Club
Paul DeAngelis- Silk Road Night Club
Stacey Banner - Open Road
Paul Houlding - HSBC
Karen Turnbull - Colchester Borough Council, Economic Development Office
Samantha Lancaster - Colchester Borough Council, Town Centre Manager