Colchester Soapbox Rally attracts Thousands
The BID's Colchester Soapbox Rally brings thousands to the high street.
Our Colchester Business Improvement District (BID) held Colchester's first-ever soapbox rally on Sunday 17th September 2023. Thousands of spectators joined the Soapbox Entrants as the inaugural event took over the high street.  The event, which was free to watch, featured some truly remarkable soapboxes that wowed the crowds.
Congratulations to all the participants for their hard work in building their entries. Speed wasn't the only focus for some entrants. Fun and imaginative themes graced the race course including dinosaurs, 101 Dalmatians, Yellow Submarines and much more! Starting from an 8ft ramp, participants navigated the 210 meter course through obstacles including the Soaper Soakers aimed by the audience!
The competition was fierce, and after much anticipation, the winners have been announced. The team with the fastest time was ADP Classic Racing, and the most creative team was #TEAMTAVERN.
Our Colchester BID would like to thank all partners who supported the event from its inception and helped to make this a memorable occasion for the City centre. The event was live streamed to additional screens around the city centre in Castle Park, Culver Square, and Lion Walk, and online on the InColchester Facebook page.
BID Manager Sam Good says "We are thrilled with the results of the first-ever Colchester Soapbox Rally. Thank you to all of the teams that took part and made the day so special. This was a free event for people to come and watch, and we're very happy with the results of the inaugural year but there is always room for improvement and learning,
We have had a great time bringing this event to Colchester and there's always a lot to learn in the process. We look forward to bringing the event back annually, building on our success and implementing new and interesting features based on what we've learnt at the Colchester Soapbox Rally 2023."
You can read more about the Colchester Soapbox Rally on the BIDs consumer brand InColchester's website. CLICK HERE TO READ MORE ABOUT THE COLCHESTER SOAPBOX RALLY. 
Businesses in the City centre are invited to answer this short survey to let us know how your business found the event and what you would like to see in future years: CLICK HERE TO ANSWER THE SURVEY.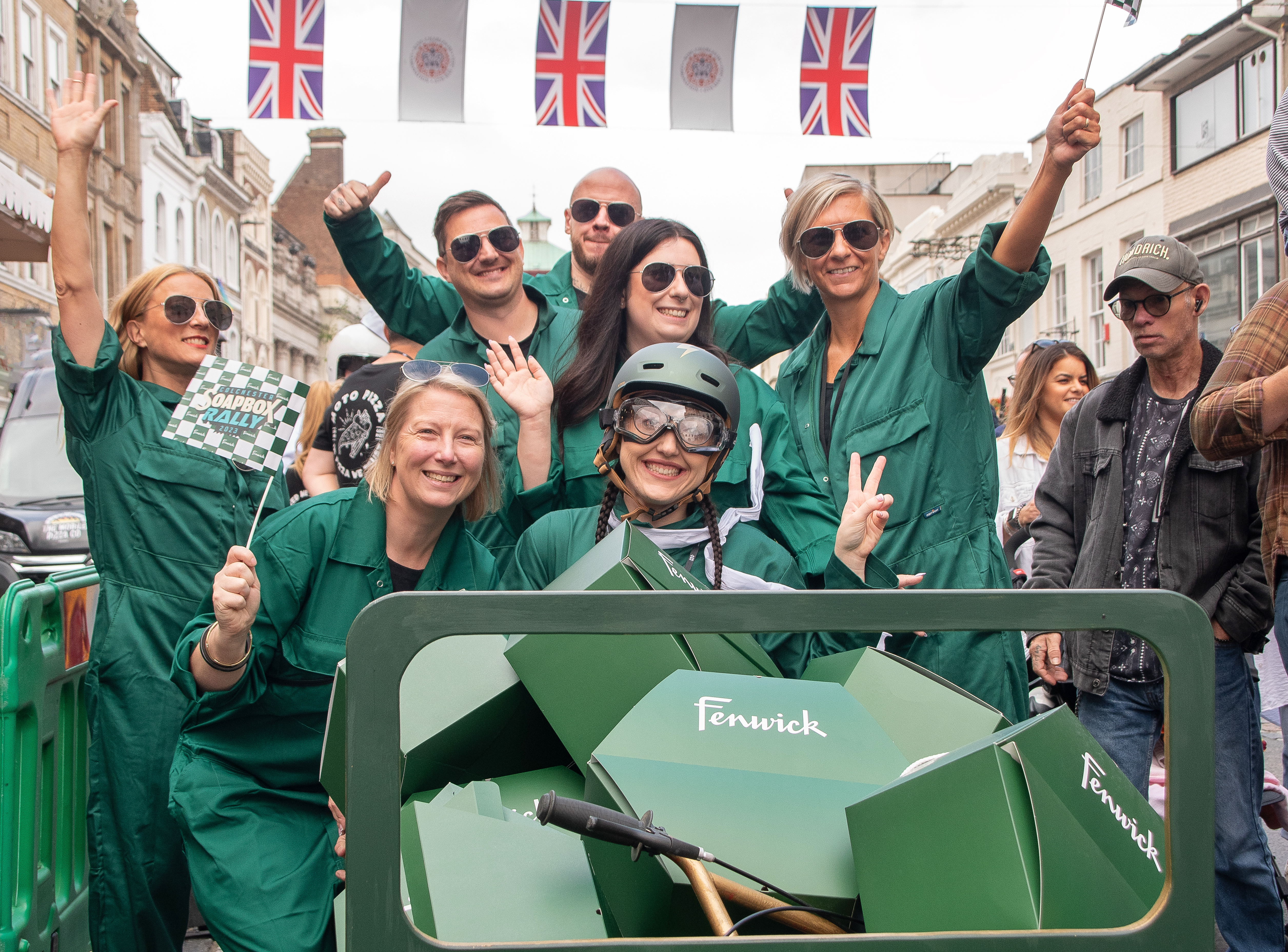 The Fenwick Flyer. Photo by Kevin Jay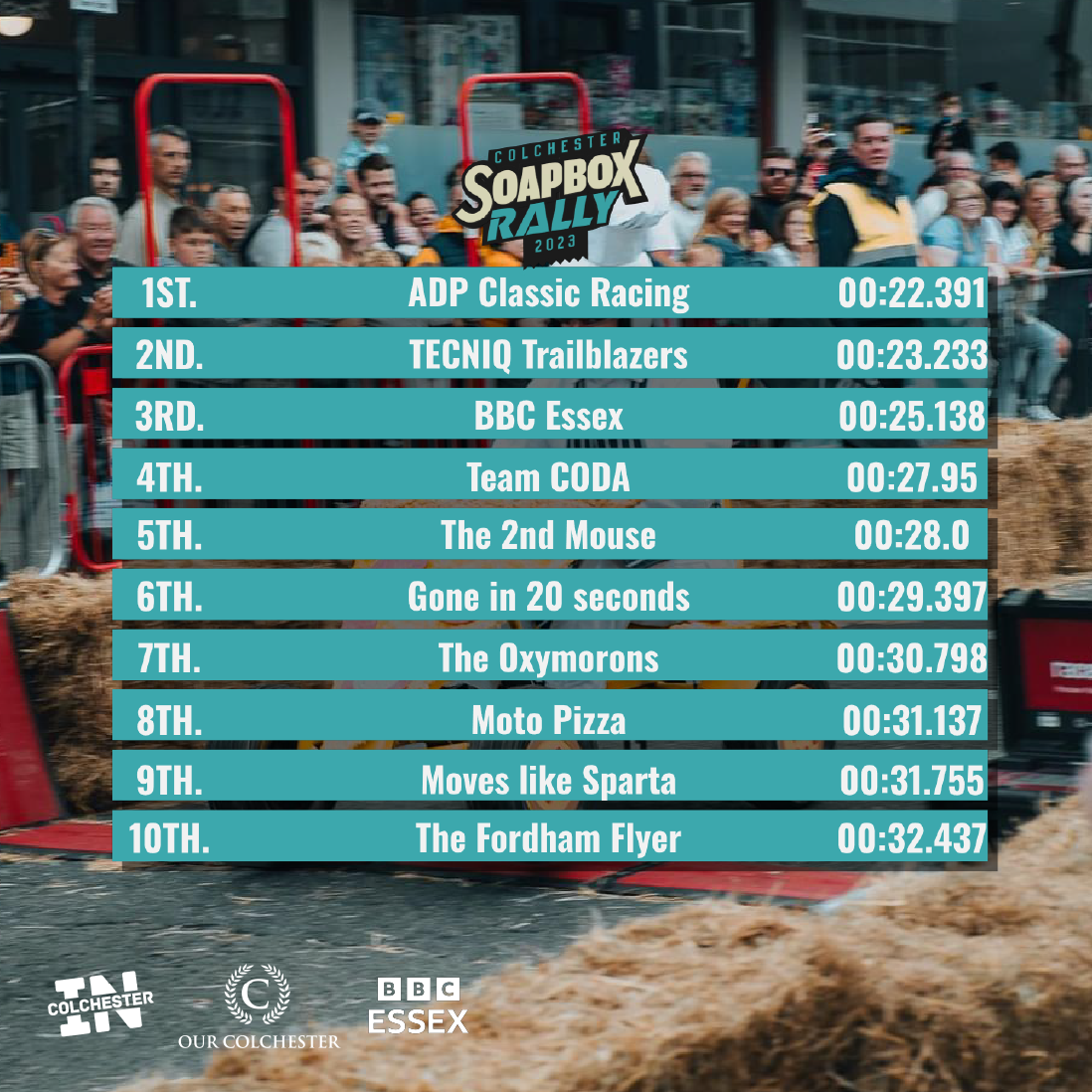 Leaderboard - top 10 fastest entries.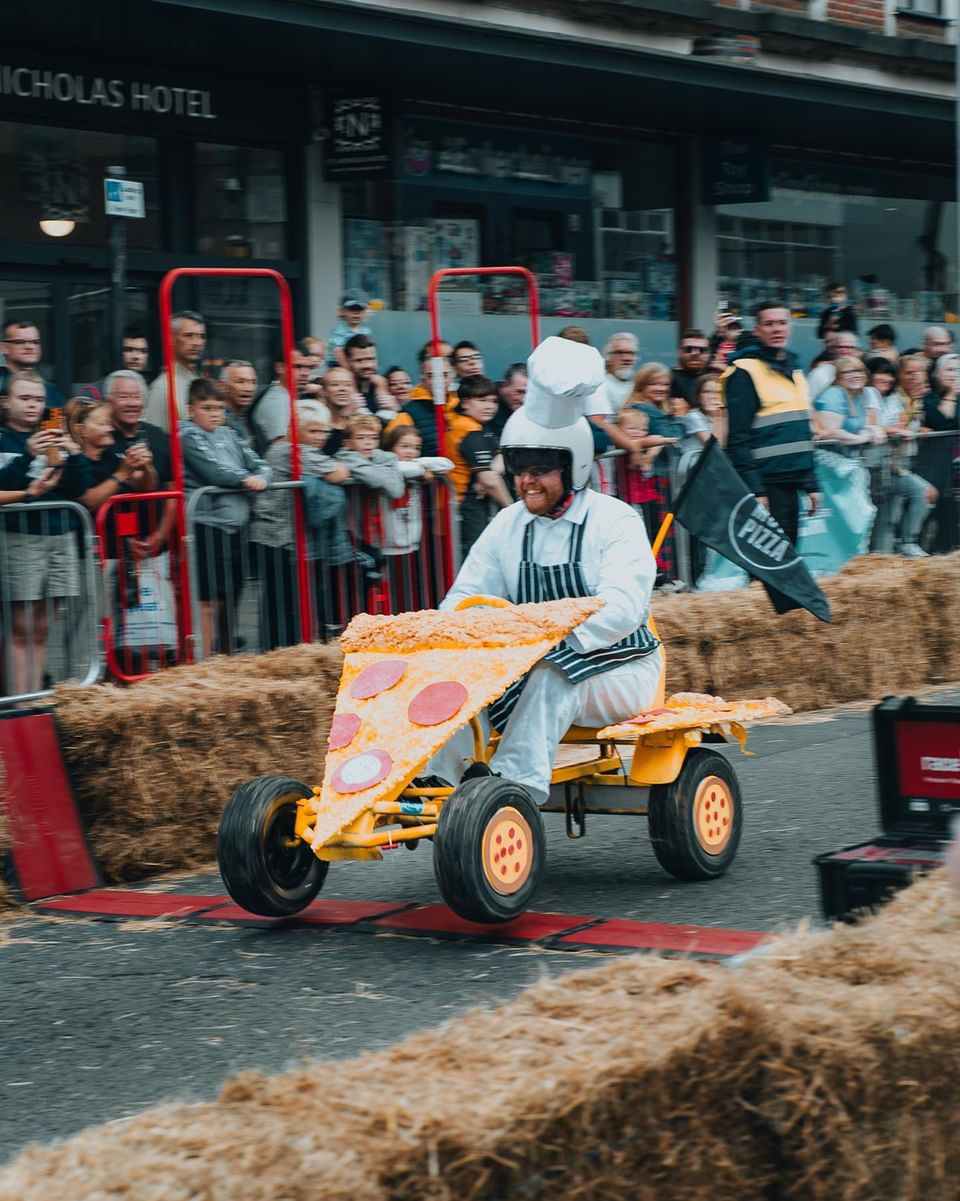 Moto Pizza competes in the Colchester Soapbox Rally 2023. Photo by Allikkx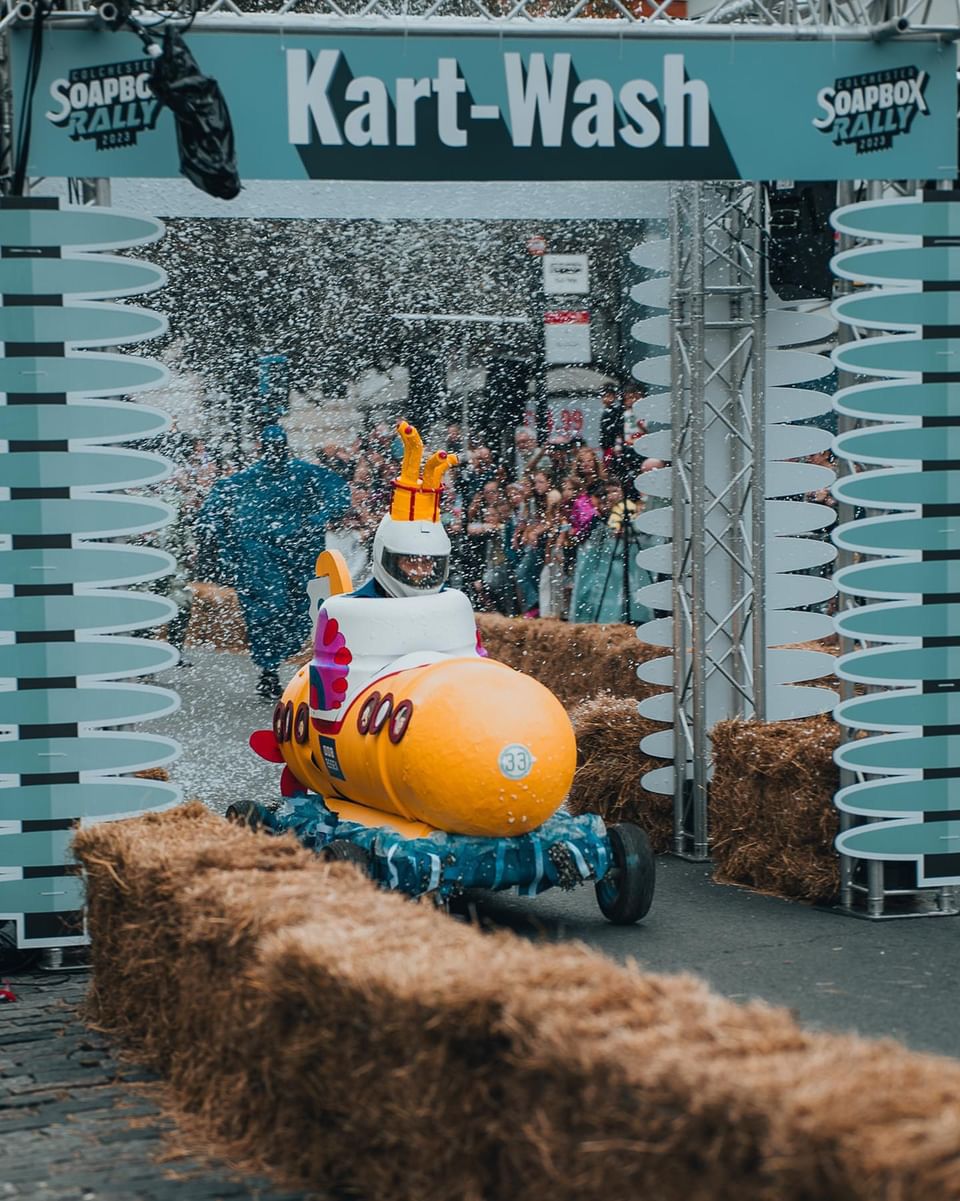 Team Flower Power racing through the kart wash. Photo by Allikkx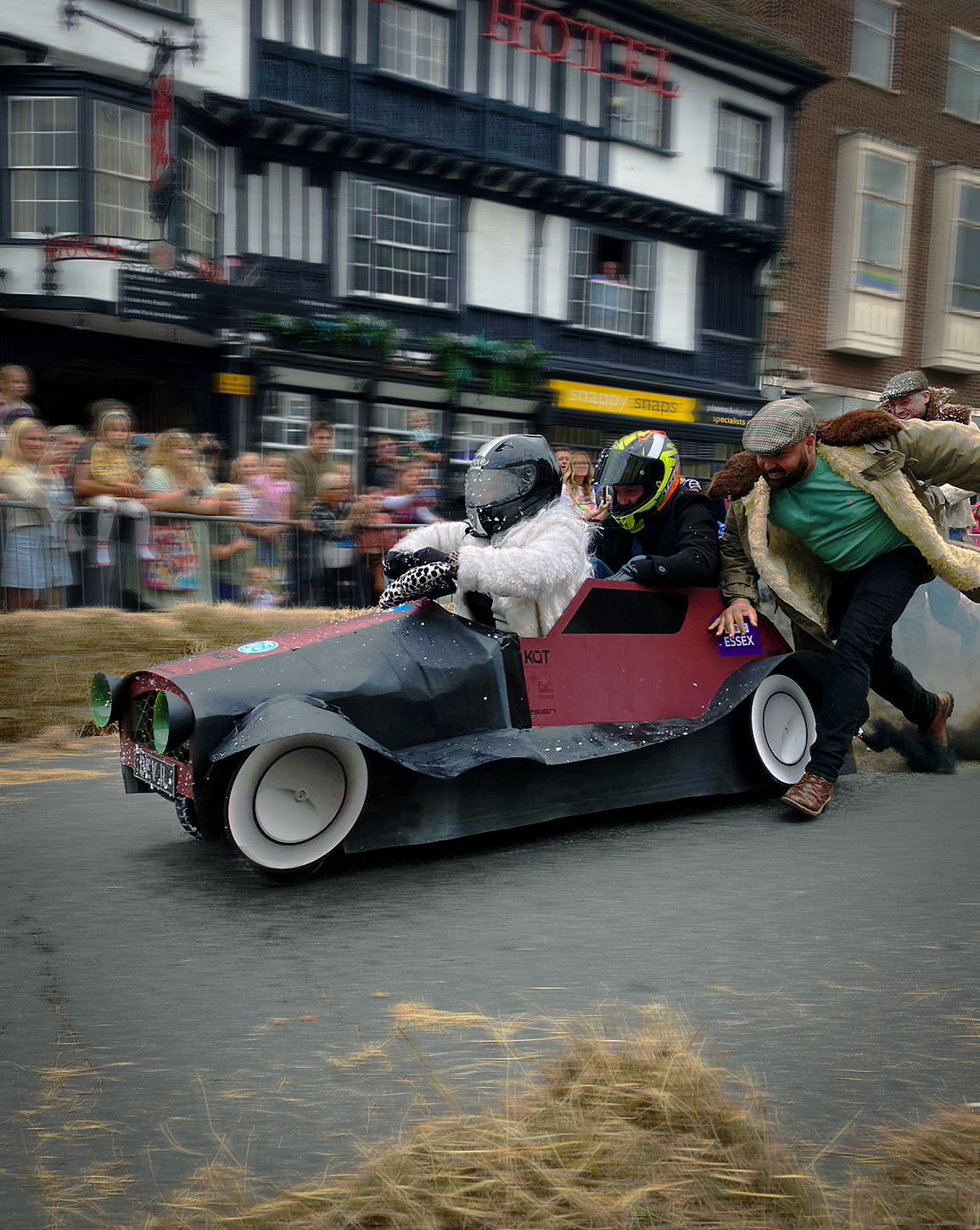 101 Black Kats