Colchester Women in Business 2023
Colchester Women in Business 2023, celebrated in Colchester City Centre.
On Sunday 24th of September Colchester BID hosted the second biannual Colchester Women in Business event with event partners Ambitious Women in Essex. Thank you to Ellisons Solicitors for their sponsorship of the awards.
The event, aiming to extend recognition to Business Women in the City centre and celebrate their successes, was held at the Town Hall in Colchester City Centre. The day saw a mixture of celebrations including a fashion show from Monsoon, 7 inspirational speakers, a sit down meal, entertainment, and the Colchester Women in Business Awards.
The days theme Stronger Together promoted speakers to share their stories of their time in business, celebrate those who supported them in their journeys, and how they hope for the connections made on the day will help bring the community together further and help to extend support to more women in business.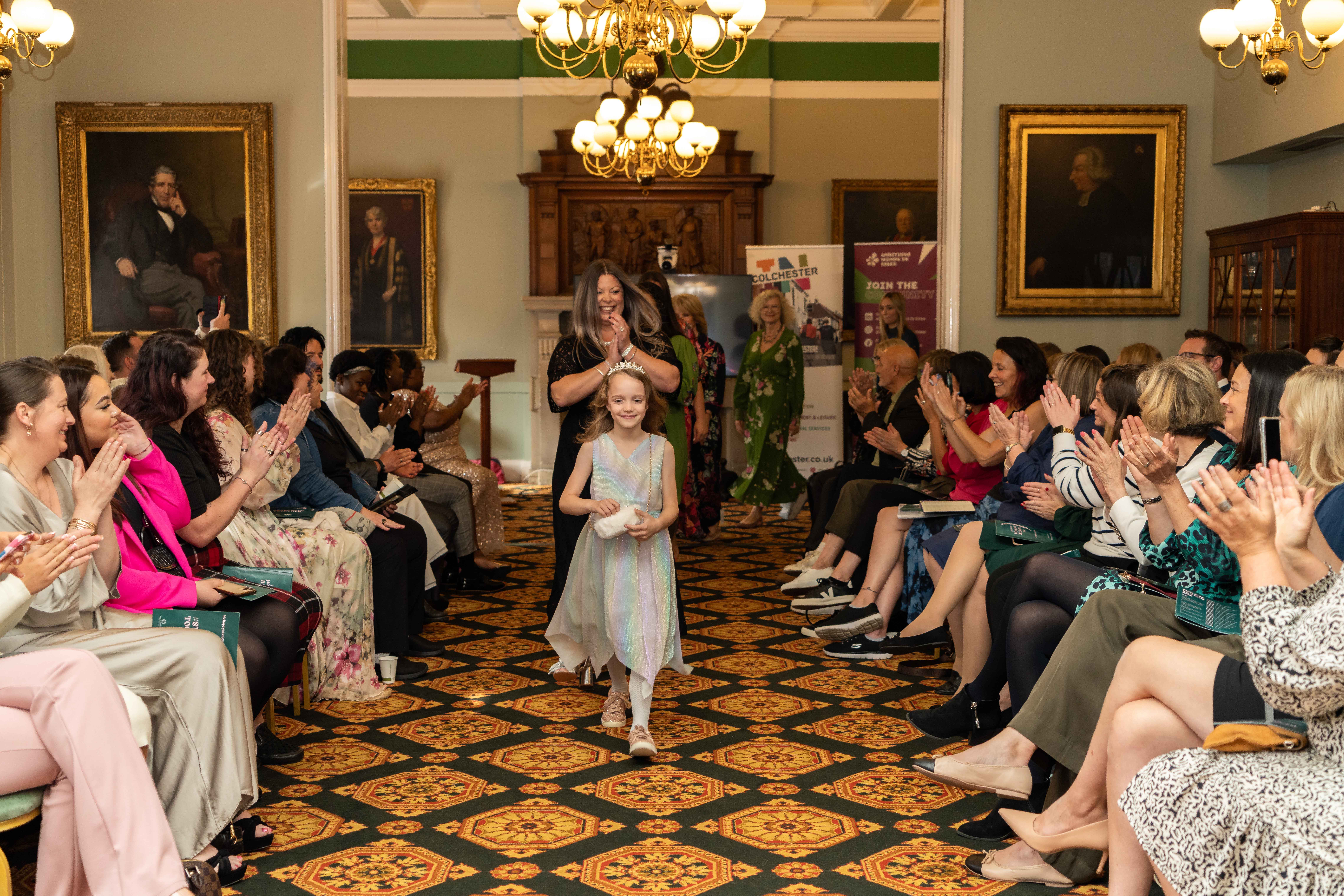 The Awards
There were 5 awards as part of the Colchester Women in Business event this year. A huge congratulations to all nominated individuals and businesses.
Community Champion Award
Jo Coldwell - Red Lion Books 
Louise Bradshaw - Age Well East 
Winners: 
Jo Coldwell
"Jo runs regular events at the shop to support local authors, community causes and different members of society, she is always helping and has time for everyone."
& Louise Bradshaw
"Louise runs the Age Well Dementia Café in Colchester. She is kind and caring, always putting others before herself…Louise helped organise a day out for the volunteers and clients in her own time, going the extra mile to help create special moments for the families to cherish."
Inspirational Woman of the Year
Pam Schomberg - Colchester in Bloom/ Jes Lifestyle 
Danielle Ellis - Danielle Styles 
Nicki Calles - Age Well East 
Winner: 
Pam Schomberg "Takes responsibility of running Colchester in Bloom alongside her work as a local potter, with her pieces entering galleries nationally is an inspiration to the art sector."
Upcoming Women of the Year
Jenna Saiz-Abo Henriksen - Patch 
Amanda Hitchin - Colchester Children Counselling
Louise Jensen - Lion Walk
Winner: Jenna Saiz-Abo Henriksen
"As well being a co owner at Patch, Jenna supports and is involved in local performing arts including Tots at the Mercury, Stagecoach, Jam Jar and Twas theatre company which is also co founded. She is also
part of the Colchester Pride Committee. Through Patch she is not only utilising her own vegetable patch to produce the delicious meals, but also using it as a venue to showcase local talent."
Woman of the Year
Gemma Cuff - Gemstone Mortgages
Jenna Saiz-Abo Henriksen - Patch 
Georgina Corbett - McDonalds 
Winner: Gemma Cuff
"Gemma lives and breathes her business. She started Gemstone in 2016 and since then has grown the business from just herself to a strong team of 9 currently. Gemma always says she wants to create a safe place where women can thrive and progress, as the financial industry is so much a male dominated place where women can be, and have been overlooked for promotion due to their sex. Gemma is hands on and leads from the front. She has personally trained every member of our team and has created a wonderful working environment for us all to improve and progress. Gemma goes above and beyond to look after us as a team and I can't think of a better boss anywhere."
Stronger Together Award
Winners: Age Well East 
"We advise and provide practical information; we connect communities to tackle loneliness and encourage mental and physical wellness.
We also offer support to people in later years who are experiencing emotional challenges, such as caring for someone at the end of their life or living through bereavement, and we support people and their carers through a dementia diagnosis. We do this to improve people's quality of life, especially during hard or challenging times."