Festive light parade timing
Festive Light Parade, timings announced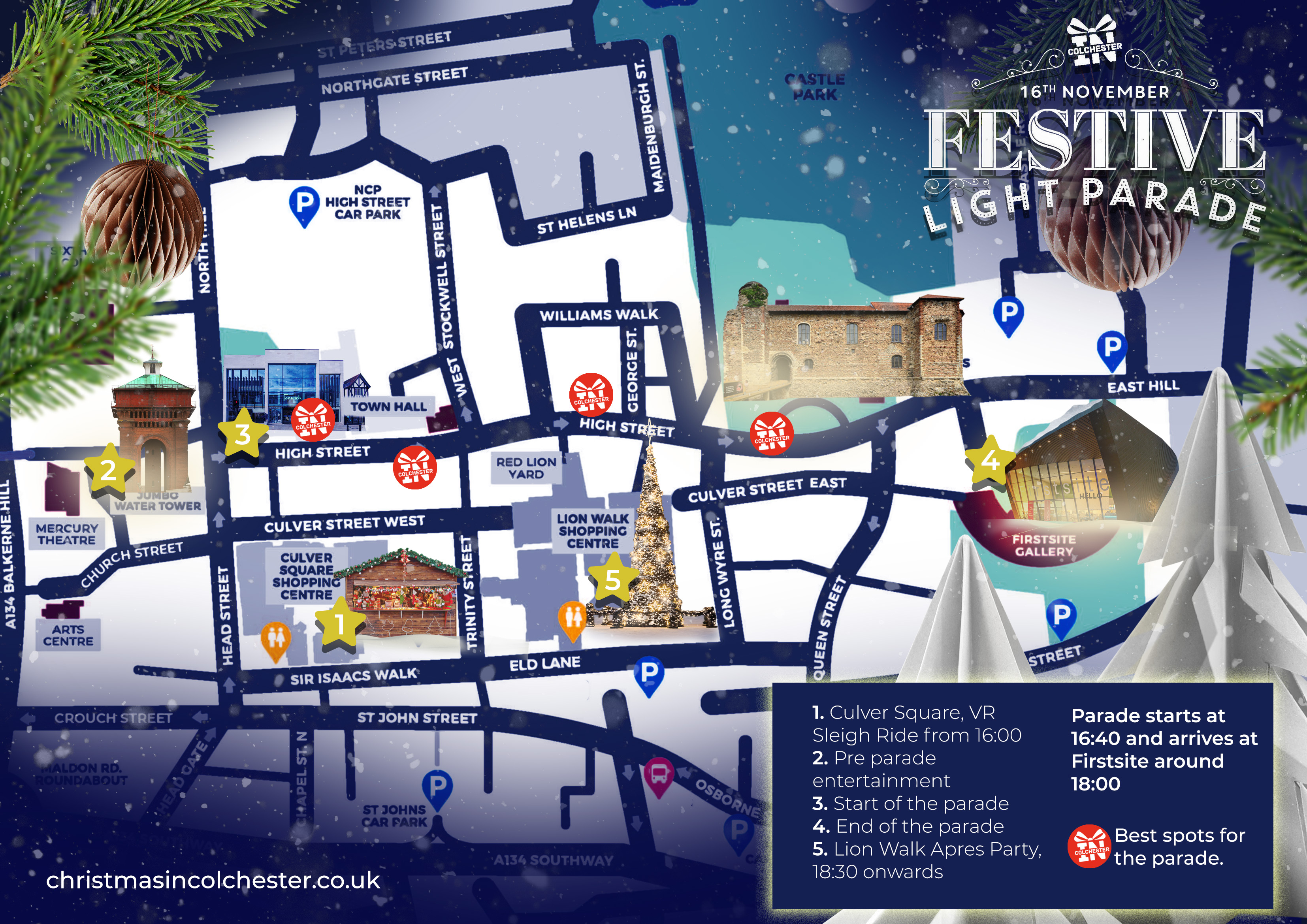 There's not long to go until the launch of Christmas in Colchester with The Big Festive Switch On which will see a great range of events and activities coming to Colchester on Wednesday 16th of November.
Festivities will start from midday with additional festive market stalls in Culver Square and later in the day the Magical VR Sleigh Ride (booking required) will open for visitors to embark on an exciting VR journey. Culver Square will then also be turning their Christmas lights on around 4pm.
The Festive Light Parade will start building up around this time with pre parade entertainment from 4pm to 4.30pm around the Mercury Theatre, stop by to see the acts and performers getting ready and then head to the high street for the best views of the parade. The Jumbo will also be lit up with a festive display AND an interactive light up Christmas tree!  As the magical parade makes its way through the city centre the festive spirit will ignite the Christmas lights on the route, expect a sparkling town hall, the main Christmas lights being illuminated and key buildings along the route sparkling with lights.
The Light Parade will be full of great performers for you to enjoy and get into the festive spirit. There's also your own chance to be in the parade. If you'd like to make your own lantern and join in, you can! There are two sets of free drop-in workshops taking place in the city centre on Saturday 12th of November at Firstsite and Colchester Library. You can find full details here: https://incolchester.co.uk/events/lantern-workshops
Full timing details to make sure you get the most out of the Festive Light Parade:
16:00 - Preparade entertainment underneath the Jumbo
16:30 – head to the high street via Church Street to get the perfect spot along the high street to watch the parade.
16:40 – Festive Light Parade begins on the High St.
18.00-18.15- Parade arrives at Firstsite with pyrotechnics and entertainment.
Head to Lion Walk Shopping centre for even more entertainment and the launch of Après Party!
No matter what time you venture into Colchester on the 16th of November there will be something fun and festive for you to enjoy.
For the most impact for the Christmas lights switching on along the route, the BID is asking that all businesses turn of their lights whilst the parade passes. We understand that this won't be possible for all businesses but are extremely grateful to those helping to make the parade as spectacular as it can be. 
Full details about Christmas in Colchester and The Festive Light Parade can be found on christmasincolchester.co.uk