Colchester to benefit from share of £2m to make public spaces safer.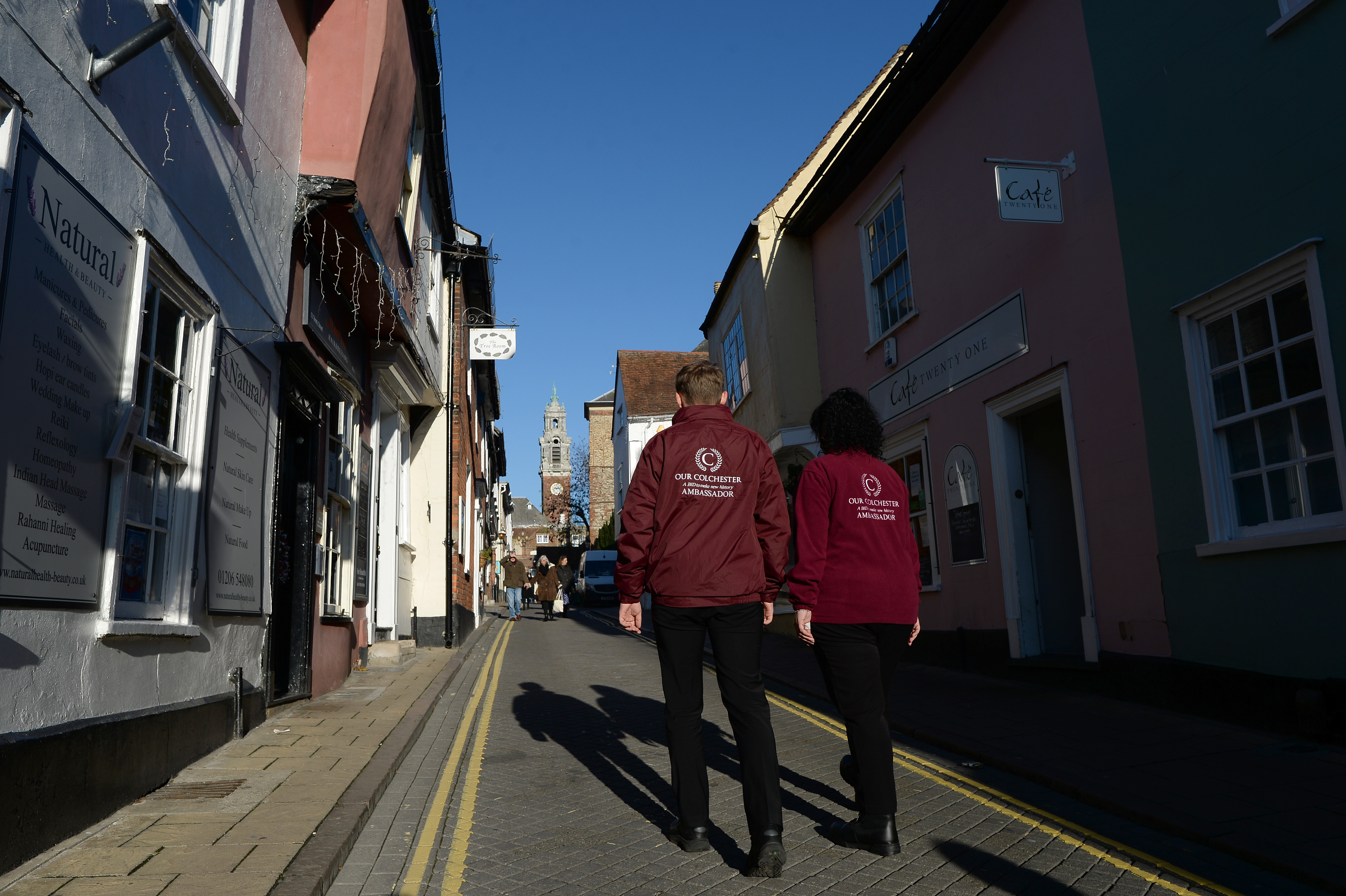 Colchester is set to benefit from a share of £1,182,795 from the Home Office's Safer Streets fund to improve public safety.
The funding, which was secured by Police, Fire and Crime Commissioner Roger Hirst with the assistance of Colchester's Community Safety team and local partners including Colchester BID, will be matched by £819,643 from Colchester Borough Council, Epping Forest District Council, Braintree District Council and Our Colchester BID bring the total funding to £2,002,438.
In Greenstead, £264,043 Safer Streets funding plus £226,492 match funding from Colchester Borough Council will be focused on public safety improvements in the Greenstead area.
In Greenstead, the estate design means some alleys are badly lit and can create a fear of crime within the local community. To tackle this, the project will improve shared areas that have previously been locations for anti-social behaviour and crime, improve the visibility and presentation of key locations, foster a stronger community spirit, and engage with the community to promote a sense of ownership. Proposed activities include:
A mobile, re-deployable CCTV camera system.
Organising community action days.
Reviewing existing green spaces to improve landscaping along pedestrian pathways and communal garden areas, to provide better visibility.
Employing a dedicated, full time neighbourhood warden.
Launching an ambassador programme in secondary schools.
Youth Projects aimed at young females involved in ASB and serious youth violence.
A series of engagement events at the University of Essex.
Local projects to increase safety along certain routes, benefiting residents and students.
In Colchester Town Centre, £283,555 of Safer Streets funding plus £273,645 match funding from Our Colchester BID, SOS Bus and Colchester Borough Council will be used to address a higher-than-average level of anti-social behaviour and sexual offences compared to other parts of Essex. Where there is a significant fear of crime, especially among women, driven by reports of anti-social behaviour, the project will engage with young people in and around the area to foster long-term changes to behaviour and work with businesses and residents to engage the wider community in tackling inappropriate and criminal activity and promote a strong network of partners committed to creating a safer environment. Proposed activities include:
A 'Not Me Too' programme providing interactive theatre for young people, adults, community groups and professionals to raise awareness and promote positive changes to behaviour to tackle violence against women and girls.
Development of a young person ambassador programme.
    A replacement vehicle for the town's SOS Bus service, which  offers safe haven, medical support, diffuses trouble and takes vulnerable women home if necessary.
A Business Partnership Portal to increase interventions to target ASB, provide prevention advice and support the business community.
Vulnerability training for 120+ Colchester businesses, transport providers, Street Pastors, SOS bus staff, venue door staff, late night food, events teams to strengthening understanding of vulnerability and how they can support people.
A Town Centre Crime Reduction Programme to target partnership activity to lower crime and ASB, including Purple Flag accreditation.
Introduce a Best Bar None scheme to drive down anti-social behaviour and improve engagement with licensed premises.
An Enhanced Ask for Angela scheme by providing individual environment and circumstances training to venues and other individuals working at night on how to offer appropriate assistance, and including a mystery shop programme to ensure effectiveness.
Nights of Action including high visibility activity to provide reassurance.
Cllr Julie Young, Colchester Borough Council's portfolio holder for Housing and Communities, said: "It's fantastic news that we can invest significant new money in a wide range of initiatives that will help tackle many of the concerns people have about crime and antisocial behaviour in their area.
"By drastically stepping up the action we take to deter the small but disruptive number of people who are blighting our neighbourhoods and the town centre, we can better prevent crime, reduce the fear of crime and make Colchester an even safer and more attractive place for residents and visitors alike."
Each project includes a range of activity to improve the physical environment, promote community involvement, and create safer spaces. This includes investment in redesigning walkways, lighting, CCTV and activities to strengthening community engagement including with schools, young people and businesses.
Police, Fire and Crime Commissioner, Roger Hirst, added: "We all want to see less crime in our communities and this focused investment will mean we can drive down neighbourhood crime and anti-social behaviour in these areas.
"We have been told by communities that there is a real fear of crime in these areas, especially among women and girls. Nobody should feel afraid to go out in their community and this work will help create safer spaces which everybody can enjoy without fear.
"We have already successfully run similar projects in the Bunny Walks area of Chelmsford and Gray's Town Centre in Thurrock. These projects have made a real difference and I am delighted we have secured the funding for Waltham Abbey, Witham and Colchester.
"I will continue to work with local councils to identify and target areas where we can drive down crime and reduce the fear of crime, especially among women and girls. I will be announcing further significant investment in projects like these in other locations in Essex later this year."
Sam Good, Colchester BID manager, added: "We are grateful that the PFCC allowed us to submit an exciting funding bid for the soon-to-be City Centre. The plans within the funding are deliverables from the recently launched Colchester Leisure Recovery Strategy with a board formed of senior leaders from the business community, local authorities, voluntary bodies and Essex Police. This joined up working enables us to access pots of funding that would not have been accessible otherwise. The funding will activate an exceptional programme of projects that will help protect the wellbeing of customers to the city centre, enabling our businesses to continue providing exemplary experiences for their guests.
The upcoming Ask for Angela programme will be the first of its kind in the country with over 120 businesses and capable guardians trained to identify vulnerable situations for those in the city centre and give them the support they need whilst also ensuring the feeling of safety is continued. "
Essex was one of the few areas to successfully secure all four bids they submitted and was recognised by the Home Office team for their understanding and insight of the issues in these communities, as well as the quality of the proposed activities.