Tap2Change November Press
Should Colchester's homeless be allowed to sleep in tents?
A response to sacked home secretary's controversial plans. 
The team at the Colchester Business Improvement District ('BID') today responded to the comments made by the recently sacked home secretary Suella Braverman, that rough sleeping is a 'lifestyle choice' and the use of tents by homeless people should be restricted.  Now Ex-home secretary, Braverman, sparked a robust debate about the government's approach to addressing homelessness and the need for more empathy and understanding in policymaking.  Braintree MP and new home secretary James Cleverly has yet to comment on the topic of homelessness.
Earlier this year, Colchester BID launched an innovative charity scheme named Tap2Change.  Beacon House Ministries is the current beneficiary of the scheme, which allows passers-by to donate £2 at contactless terminals located around the city centre.   100% of donations go to Beacon House Ministries which supports those facing homelessness and in insecure housing in Colchester.
Whilst there are only occasional signs of homeless people sleeping in tents in the city centre, there are certainly those that have no choice but to regularly sleep rough in tents on the outskirts of the city.
Commenting on behalf of Colchester BID Tap2Change, Vincent Geaves said "Homelessness is a multifaceted issue that demands a compassionate and evidence-based approach. We recognise the importance of addressing the root causes, providing access to affordable housing, and offering support for those struggling with addiction and mental health problems.  Our Tap2Change scheme offers direct support to those who need it most and this is particularly relevant at the time of year, when temperatures start to plummet. Tap2Change offers those sleeping in tents the option of the wraparound support at Beacon House Ministries".   
Now a backbencher, Braverman's recent comments centered around her assertion that homelessness was not caused by a lack of housing but rather by personal choices, including addiction and mental health issues. She suggested that individuals experiencing homelessness had made deliberate choices that led to their predicament, rather than being victims of systemic issues such as a shortage of affordable housing, unemployment, or cuts to social services.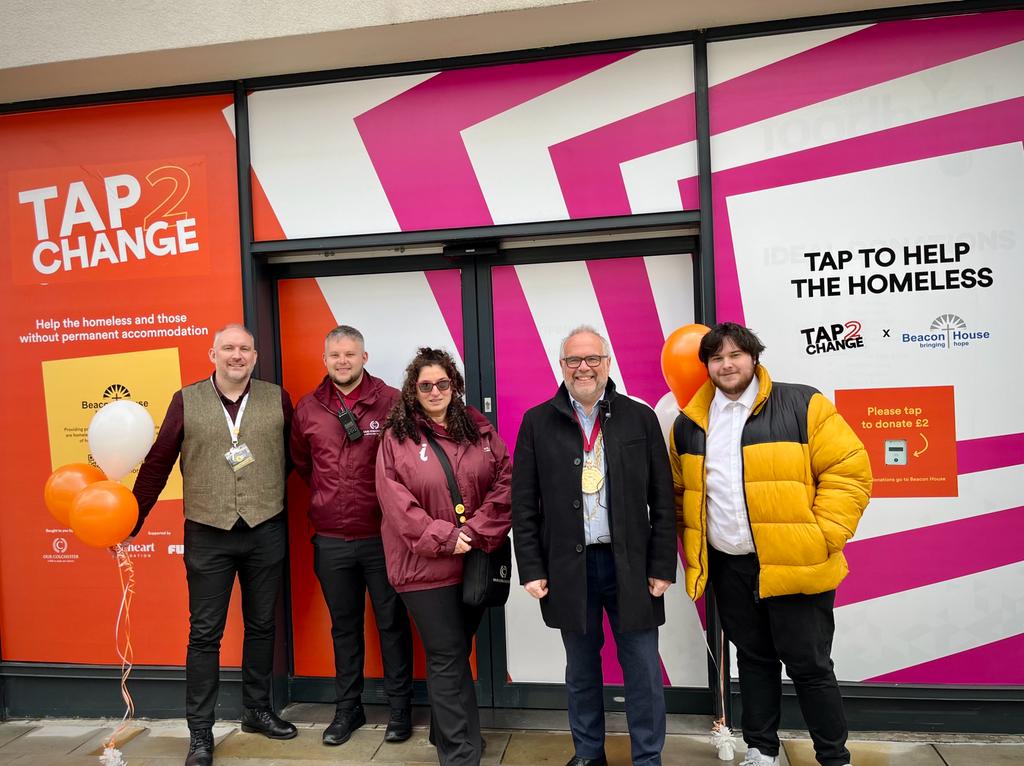 Steve Brown, CEO of Beacon House Ministries added "Our day centre in Colchester provides a welcoming and non-judgemental environment which encourages a sense of belonging for people who are currently excluded from the wider community.  Some of our guests do rely on tents as temporary accommodation – restricting their use will simply ostracise these vulnerable members of society even further.  The Tap2Change scheme is a great way for the public to support our holistic change programme – with 100% of what they donate coming to Beacon House, enabling us to provide the most appropriate help required".
City visitors are able to tap a contactless terminal with their bank or credit card, to securely donate £2 and can repeat the process multiple times to donate more than £2. 100% of donations received will be directed to Colchester's Beacon House Ministries homeless charity (located in Crouch Street).
The Tap2Change scheme is expected to raise hundreds of pounds for Beacon House Ministries and a summary of the amount raised can be viewed at  https://ourcolchester.co.uk/tap2change/