The Big Festive Switch On
The Big Festive Switch On sparks festive fun in Colchester
Christmas lights switch on event is set to launch festive celebrations in the heart of Colchester.
City Centre partners will be hosting the Christmas 2022 Big Festive Switch On event next month, with an evening of entertainment launching a fabulous season of festive celebrations within Colchester.Taking place on Wednesday, November 16, the Big Festive Switch On will see the start of seasonal fun, heralded by the city's first night of late-night shopping and a spectacular collaboration of ceremonies to switch on Colchester's Christmas lights. Partners in the Christmas 2022 Big Festive Switch On include Colchester Business improvement District (BID), the Mercury theatre, Actual Radio and the associated charity for the event, The Rotary Club of Colchester.
The majority of Colchester's retailers will stay open until 9pm as part of the event, which will begin with a Light Parade through the centre of Colchester from 4pm to 6pm. Our Colchester BID will lead the Light Parade & City Centre light switch on, which will start at Mercury theatre and end at the iconic Firstsite building with High Street Christmas lights switching on as the parade progresses on its route.A Christmas Market will be at full capacity along Culver Street East, giving shoppers an early chance to pick up a number of once-in-a-lifetime gifts. Lion Walk, Mercury theatre and Actual Radio will keep crowds warm with a packed programme of entertainment before a sensational firework display will mark the moment Lion Walk's Christmas lights start to sparkle.
The evening will also see the launch of the Apres Party in the Lion Walk Courtyard, which will be home to a Ski Chalet-themed pop-up throughout Christmas. Co-funded by Our Colchester BID, the space will allow shoppers the chance to enjoy open fires, a bar, delicious hot food and a Santa's Grotto. There will also be a choice of family games, children's entertainment, workshops, the chance to enjoy breakfast with Santa, live music, comedians and DJs – all bringing a sense of Alpine adventure to the heart of Colchester.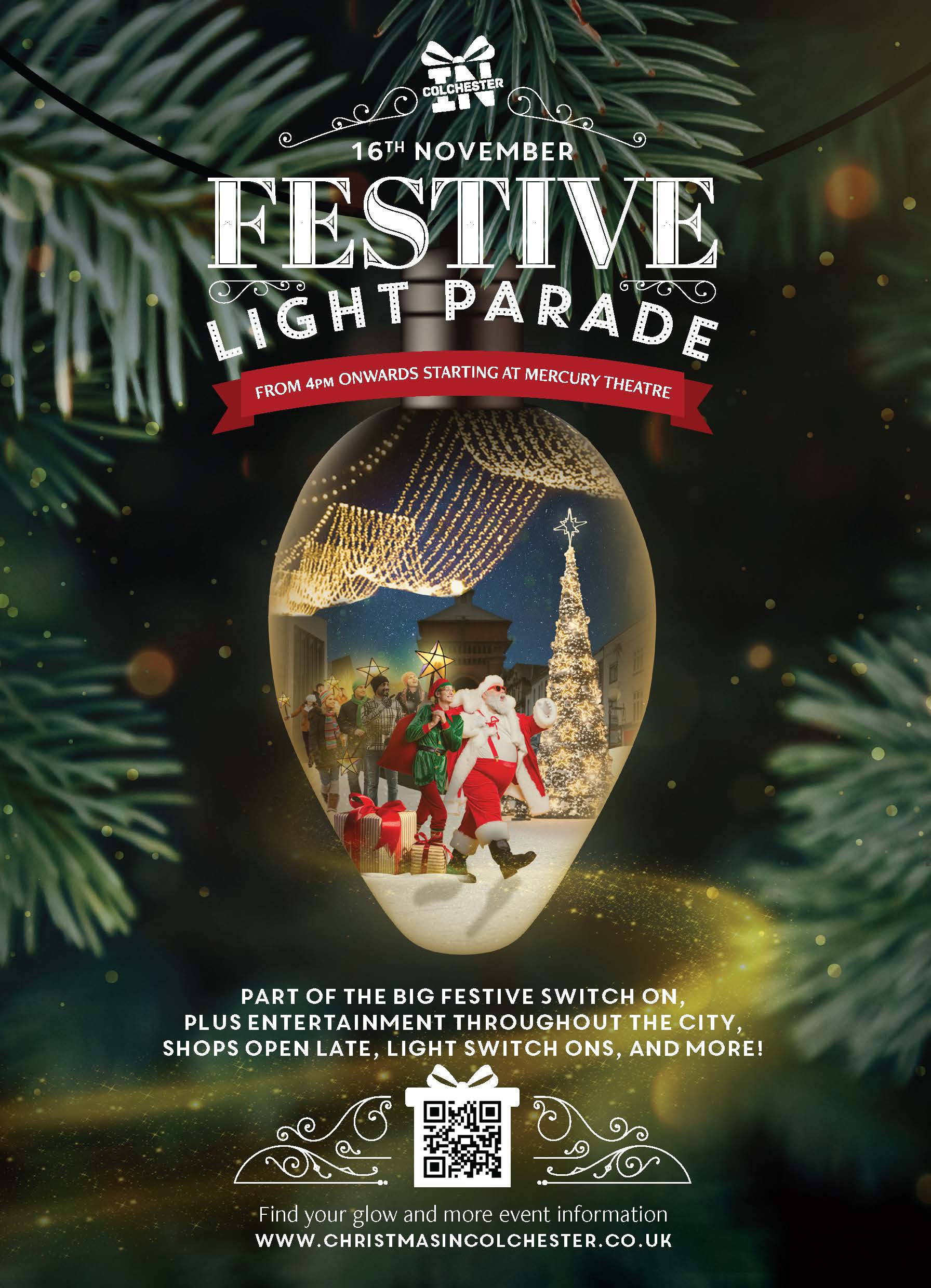 Martin Leatherdale, centre manager at Lion Walk Shopping Centre, commented: "We are so excited to get the festive season started this year. Lighting up Colchester on November 16 will be an incredible occasion, with the Light Parade, late night shopping, great entertainment and the launch of the Apres Party all promising to make it a magical evening. And then there's the light switch on itself, followed by a stunning firework display. Christmas in Colchester really is back in a big way in 2022."
Demi Quinn, Colchester's Markets & Street Trading Manager, said: "The centre of Colchester will come alive with a bustling market this November and our Christmas Market will be at full capacity, making it a great place to pick up unique gifts or special treats. From food and drink to inspirational arts and crafts, if you take the time to explore the market along Culver Street East you are sure to get a sense of festive cheer."
Sam Good, BID Manager at Our Colchester BID, commented: "Christmas is such an important time for our retailers & leisure businesses in the city centre, so to bring the people of Colchester together on 16th November will be a great way to mark the start of the festive season. There is a packed programme of events across Colchester in the build-up to Christmas, making Colchester a very exciting place to get everything you need for the big day."
And there's more to come in Colchester before Christmas, with activities planned across the city including a light display at Castle Park, VR Sleigh Ride in Culver Square and a Charles Dickens Christmas Carol trail.