Business Resource Portal
Here at Our Colchester, we have created this portal to make ordering PPE and social distancing products easier for town centre businesses. This portal includes a list of preferred suppliers who have offered discounted rates and a selection of set designs ready for you to use.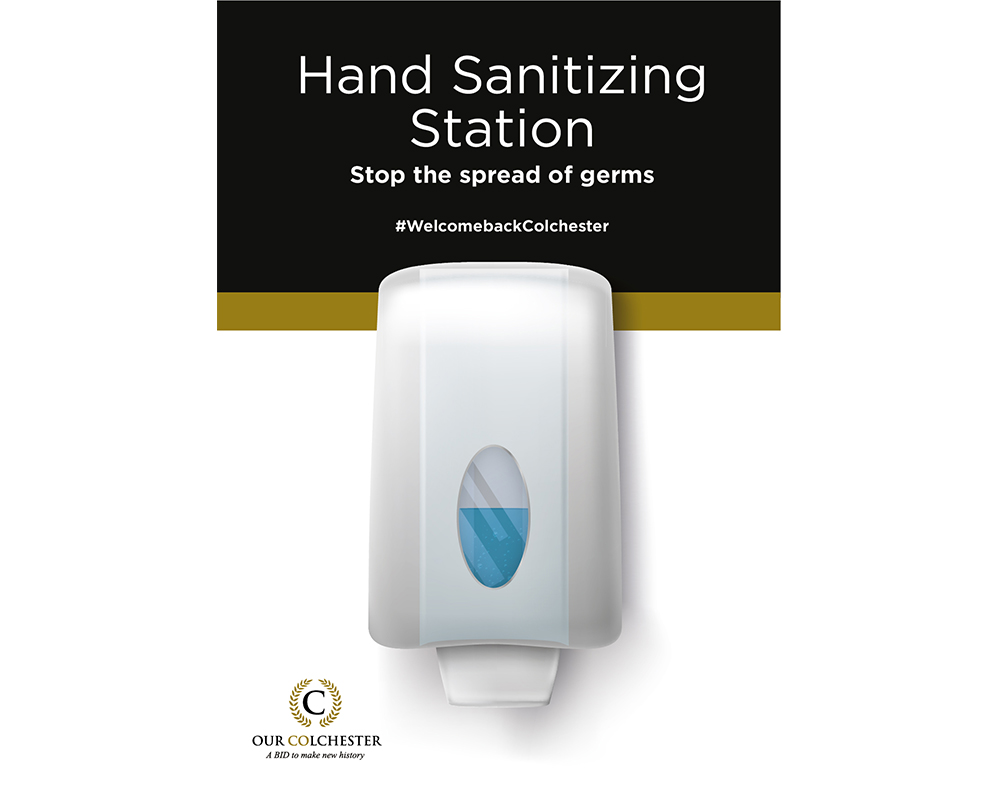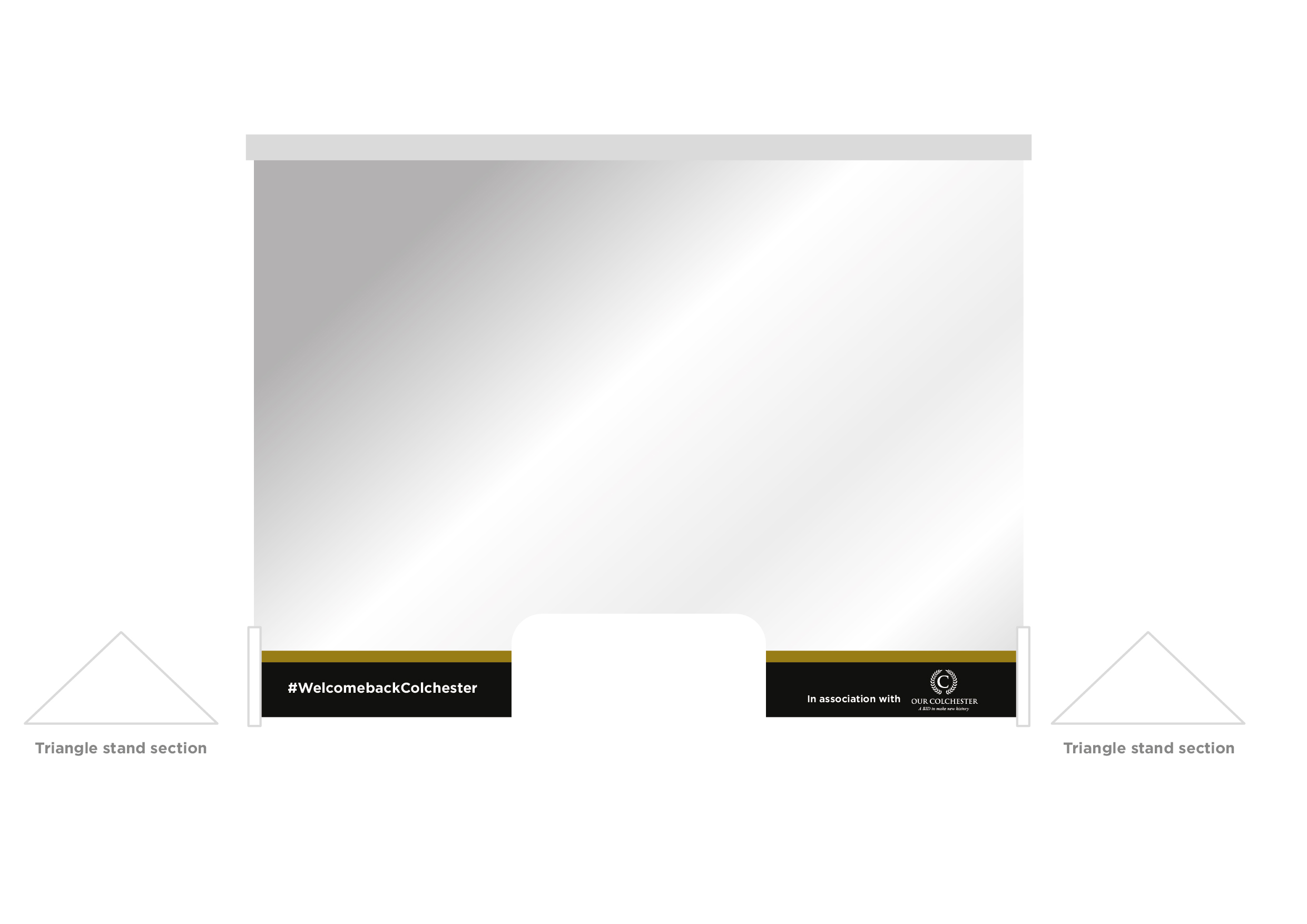 Designs: 
These designs have been created by Digital Reflow. If you wish to use these designs, please inform your chosen supplier when ordering. Digital Reflow will also add your logo to any of the above designs for £25.
Floor Vinyls (External)
Atlas
InPrint
Blue Sky
Printing
B2 & Kendall
Circular direction vinyl
300mm (pack of 1)
£14.40
£11.70
400mm
£19.80
£16.20
500mm
£30.60
£40.38
Circular 'stand here' vinyl
300mm
£14.40
£11.70
400mm
£19.80
£16.20
500mm
£30.60
£40.38
Circular 'one way' vinyl
300mm
£14.40
£11.70
400mm
£19.80
£16.20
500mm
£30.60
£40.38
1000mmx100mm
£7.20
1000mmx200mm
£14.40
800mmx70mm (Pack of 8)
£162
400mmx400mm (Pack of 8)
£238.80
Arrow Floor Vinyl
£30.76
| Hand Sanitizer Station | Atlas | JandJ Group | B2 & Kendall |
| --- | --- | --- | --- |
| Mobile Sanitiser Station (Branded) | | | £342 |
| Window vinyl station | £35 | | |
| Wall Hung Stations | | £32 | |
| Sanitation stand without shelf (customisable with vinyl) | | £200 | |
| Sanitation stand with shelf (customisable with vinyl) | | £299 | |
| Pump Action 1000ml bottles (boxes of 12) | | £102 | |
| Desk Dividers | InPrint |
| --- | --- |
| Social Distancing Desk Dividers (1) (Unprinted)(1200-1500mm width) | £90 |
| Social Distancing Desk Dividers (1) (Printed) | £114 |
| Plastic Signs | Atlas |
| --- | --- |
| A4 | £10.80 |
| A3 | £16.20 |
| A2 | £23.40 |
| Flyers | InPrint | Atlas |
| --- | --- | --- |
| A5 (one side print, silk) | | |
| 250 | £36 | £36 |
| 500 | £46 | £46 |
| 1000 | £52 | £52 |
| Floor Vinyl (Internal) | Inprint | B2 & Kendall | Blue Sky Printing | Atlas |
| --- | --- | --- | --- | --- |
| Circular 300mm, fully customisable (Pack of 8) | £82.80 | | | |
| Circular 300mm (1) | | | £11.70 | £10.00 |
| Circular 400mm (1) | | | £16.20 | £15.00 |
| Circular 500mm, fully customisable | | £26.13 | | £20.00 |
| 800mmx70mm (Pack of 8) | £94.80 | | | |
| 400mmx400mm (Pack of 8) | £118.80 | | | |
| Arrow Floor Vinyl | | £25.08 | | |
| Line 1000mm x 100mm | | | | £8.00 |
| Line 2000mm x 100mm | | | | £16.00 |
Till Screens
Atlas
Blue Sky
Printing
B2 & Kendall
600mmx700mm
£64.80
800mmx700mm
£70.20
1200mmx700mm
£89.10
Counter Standing (600mmx776mm)
£56.40
Hanging (1000mmx1000mm - Drilled header)
£83.80
Suspended Retail Counter Screen (Small)
£74.10
Suspended Retail Counter Screen (Large)
£77.90
700mmx500mm (Plain)
£71.25
700mmx500mm (Branded)
£76
1100mmx900mm (Plain)
£76
1100mmx900mm (Branded)
£80.75
| Poster | Atlas | InPrint |
| --- | --- | --- |
| A3 | £2.70 | |
| A2 | £10.80 | |
| A1 | £16.20 | |
| Handwash signs (A2) | | £25.20 |
| Vehicle Magnetic sign (A2) | | £58.80 |
| Window Cling Messages | InPrint |
| --- | --- |
| 500mmx500mm (1) | £56.40 |
| Bollard Covers | InPrint |
| --- | --- |
| 1 printed | £54 |
| 2 printed (both printed the same) | £66 |
| Roller Banners | InPrint |
| --- | --- |
| 800mm wide | £58.80 |
Face Masks
InPrint
Flying Trade
Group
B2 & Kendall
KN95 Pack of 10
£27.50
FFP2 Pack of 10
£40
FFP3 Pack of 10
£100
FFP3 Individual
£12
Face Visor Pack of 10
£82.80
Disposable 3ply 50 units
£49.90
PPE Identification sticker A6 (1)
£15.60
Gloves
Pack of 100
£15
Other
Aprons: Tabard Style: Plastic (Pack of 10)
£102
Hand Gel
Bottle of 500ml
£7.50
| Portable Cleaning Packs | B2 & Kendall |
| --- | --- |
| Personal (ideal for one person) | £19.99 |
| Office (ideal for 1/2 desks) | £44.99 |
| Workstation (ideal for any use) | £54.99 |
| Premises Disinfection | Quotes depending on site |
| Package 1 | 10% discount to Our Colchester members |
| Package 2 | 10% discount to Our Colchester members |
| Package 3 | 10% discount to Our Colchester members |
| Package 4 | 10% discount to Our Colchester members |